Some of you may know that there was a book written written in 1898, a whole 14 years before the disaster. Which talks of a ship so large and unsinkable that even the Gods marveled at it. The Titan although altered after the sinking had many similarities to that of Titanic in it's original addition. Here are some and a link to a free ebook of the book.
Beyond the name, the similarities between the Titanic and the fictional Titan include:
Described as "unsinkable"
The Titanic was the world's largest luxury liner (882 feet, displacing 63,000 long tons), and was once described as being practically "unsinkable"
The Titan was the largest craft afloat and the greatest of the works of men (800 feet, displacing 75,000 tons, up from 45,000 in the 1898 edition), and was considered "unsinkable".
Shortage of lifeboats
The Titanic carried only 16 lifeboats, plus 4 Engelhardt folding lifeboats, less than half the number required for her passenger capacity of 3000.
The Titan carried "as few as the law allowed", 24 lifeboats, less than half needed for her 3000 capacity.
Struck an iceberg
Moving too fast at 22½ knots,[citation needed] the Titanic struck an iceberg on the starboard side on the night of April 14, 1912 in the North Atlantic 400 miles away from Newfoundland.
Also on an April night, in the North Atlantic 400 miles from Newfoundland (Terranova), the Titan hit an iceberg while traveling at 25 knots, also on the starboard side.
Sinking
The unsinkable Titanic sank, and more than half of her 2200 passengers died.
The indestructible Titan also sank, more than half of her 2500 passengers drowning.
Titanic Went down bow first, the Titan actually capsizing before it sank.
Here is a link to the ebook where you can read the original story of the Titan and make your own comparisons to Titanic
http://www.titanic-titanic.com/wreck_of ... an_1.shtml
Titanic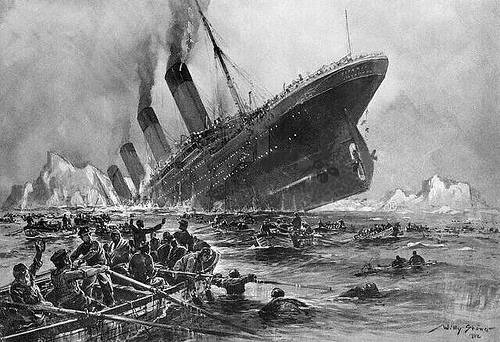 Titan